"I wanted a Doberman, so I looked in the local paper and there they were, Doberman puppies for sale, $300.00. It seemed so easy, it seemed so quick and the price couldn't be beat!!!!!!!!!!"
STOP right there.
If you plan on having children, then you are planning, right?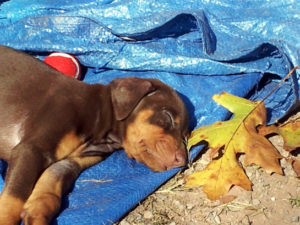 If you are pregnant, you can plan for 9 months, right?
If you are adopting, it will take time and you have to plan even more, right?
So PLEASE, take your time when choosing a Doberman for your family.
Think of what you want from your Doberman (standard, health, temperament, color) and then find the right breeder.
You do not have to find a breeder that has been breeding champions for years, but you should look for a breeder that is responsible.
If you are going to call a person from the paper or from the Internet, go to "A Good Breeder" or at least ask these questions:
Does the breeder own the parents of the litter?  And if yes, are they active with the dogs, i.e., are they competing in obedience, tracking, agility, or conformation?
Do the parents have papers (NO PAPERS–NO PUPPY*), If they do have papers, ask for the AKC registration #. If there is a letter "Z" in registration # that means they have "white or albino" in the background.  These dogs are prone to many health problems and caution should be exercised before purchasing a white or albino.
Is the litter registered? If not, find out why. If the answer is "AKC messed up the papers", that is very unlikely. It could be that one of the parents has Limited Papers and that is why the litter cannot be registered. (NO PAPERS NO PUPPY*)
If you pick up your puppy and the breeders does not have registration papers for you by saying "Oh I had no time to register the litter yet" then you should wonder what else did they not have time for with this litter"…. (NO PAPERS NO PUPPY*)
Are the dewclaws removed and is the tail docked?
Are the ears cropped? (Why should you go out and find a vet to get it done? It will cost you between $300 and $500. Add this to the cost of the puppy.)
Why did they breed? (Good answers: to try and get a dog they can use for competition or to better the Doberman Standard)
Beware of down payments. Don't let anybody talk you into a down payment to get a better deal. You are not buying a car you are trying to find a companion.
Beware of Internet sales. Some of them are PUPPY MILLS.
Before you buy from the Internet, go to the local paper. In many instances you are purchasing the some quality puppy and you paying a much higher price for one on the Internet.  "Anybody that advertises more than one breed on their website, I wouldn't touch with a 10' pole."
If you are not sure if you found the right Internet site or breeder, please feel free to contact us. We will do our best to help you.
* NO PAPERS NO PUPPY – We stress this issue in the hopes that it will cut down on people that do not respect the standard and breed to better the health of Dobermans, but rather breed only to make a quick buck. We recommend you read, "Tips On Buying A Puppy" by Bob and Nancy Vandiver, which is posted on the DPCA Breeder/Exhibitor Education page.