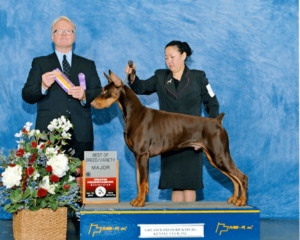 The goal of Cavalier Doberman Pinscher Club is to provide the public and new Doberman owners with a better understanding about the breed. We strive to promote all aspects of the Doberman, from their role as loving family pets, to their versatility participating in conformation, working and performance dog sports, and service and therapy dog work.
Club members also help the Doberman owner with ear posting, nail trimming, health questions, food advice, and other questions pertaining to the breed.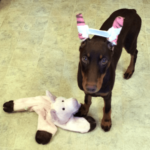 The CDPC regularly sponsors Echocardiogram Clinics and we have purchased a holter monitor, available for rent by members and non-members alike, to assist in early detection of Dilated Cardiomyopathy. Although we do not make referrals for breeders, trainers/training facilities, or vets, the CDPC will share our experiences and knowledge of the breed with you.
The CDPC actively supports rescue and public education efforts. We hold seminars and we host conformation, obedience and rally trials.
The CDPC is a non-profit organization and a charter member of the Doberman Pinscher Club of America.